We are dedicated to invigorate and rekindle the spirit of service in all citizens, bring about local initiative and encourage community participation in improving quality of life.

One thing that requires is social responsibility, everyone wants to balance their personal and work life and they pay more attention in achieving them in life and leaving behind society.


We envision a path of better future for our future generations by bringing in desirable changes that need to be addressed in the society.


When we have started our journey of VChangeU in 2010 primarily focused on Tobacco and Alcohol addictions, we could address only to the targeted group of individuals. From past 3 years we are addressing beyond tobacco and alcohol, which are equally degrading our health and wellness. Our current sessions are raising awareness on disease control by preventive approaches through life style changes.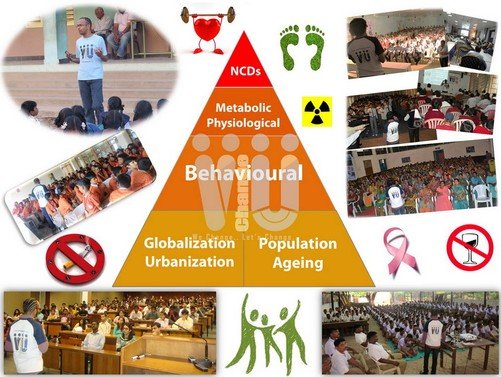 Of which NCDs are our focus area. World Health Organization (WHO) 2015 reports says:
* Non Communicable Diseases (NCDs) kill 38 million people each year.
* Almost three quarters of NCD deaths - 28 million - occur in low- and middle-income countries.
* Cardiovascular diseases account for most NCD deaths, or 17.5 million people annually, followed by cancers (8.2 million), respiratory diseases (4 million), and diabetes (1.5 million).
* These 4 groups of diseases account for 82% of all NCD deaths.


"Our Aim is to promote better health around the world by protecting the younger generation from evils of Tobacco and Alcohol and invoke them to adopt a healthy lifestyle."